REPORTS & INFORMATION
AUSTRALIA AND
NEW ZEALAND



Please send all information and inquiries through the Contact NetNude link which is on the front page of NetNude. Thank you.


South Pacific Islands



Australia

| | |
| --- | --- |
| | Alexandria Bay Beach, Noosa, Report., October 2007. The second half of October 2007 I returned to Australia for my 6Th trip. In 2005 I visited Sydney and the surrounding area and wrote a location report for NetNude on some beaches at that time. This time I visited the 'Sunshine State" of Queensland and the holiday town of Noosa, where I lived when I first stayed in Australia for a year in my twenties. Noosa is in southeast Queensland state, about a 3 hour drive north of state capital Brisbane. It is easily reached by multiple coach services from Brisbane such as Greyhound Australia and Premier Motor Service, many of which also stop at the airport after leaving the city Transit Centre. Flights serve Brisbane (BNE) from many parts of Australia, and international destinations as well. Noosa has lots of holiday rental homes and bed and breakfast operations there, plus a couple of backpacker hostels, which is my choice for budget accommodation when not camping. There is even a Sheraton off the main street in Noosa... (click preceding link to read the rest of the report.) |
| | |
| --- | --- |
| | Balding Bay Magnetic Island, North Queensland Trip Report. 2007. Magnetic Island, North Queensland, Australia is home to two or three traditional clothing-optional beaches. Balding Bay is the most well-known, but nudists use the far west end of Horsehoe Bay and Rocky Bay Beach, an easy walk from Picnic Bay. I stopped at Rocky Bay on this trip one day and found the sand almost gone at high tide, and the sand is damp for most of the day when the tide goes out. A very strange lone male with a tall Mexican style hat was there. Female waitstaff at one of the hotels later told me his presence puts off girls going to Rocky Bay, so they go elsewhere. Like all beaches in Queensland, none is legally designated clothing-optional, unlike most other Australian states.(click preceding link to read the rest of the report.) |
| | |
| --- | --- |
| | Cedar Views, Whitsundays, Queensland. Mike & Tanya's place (Cedar Views ). A hill top 5 acres of gardens, forest and bush, valley views, not far from Airlie Beach, Whitsundays, Qld. Not far from highway, rail and airport (proserpine). A short drive to the beach and waterfalls (cedar creek). House has double rooms, air-conditioning, share bathroom and in ground pool, plenty of room to wander about naked inside and out. Eat with the family and feel at home, enjoy a relaxing massage on the veranda looking out over the cane fields. Very relaxed and comfortable. Below are a few photos of the place and one of airlie beach and one of secluded Dingo beach (Jonah bay) about 40 klms north of us, usually deserted in the week - thats our spot !!! Phone: 0408983741. |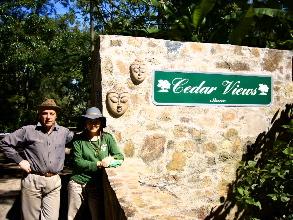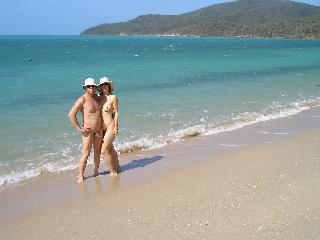 Cedar Views and secluded Dingo beach (Jonah bay) about 40 klms north of us.

Cedar Views and the pool.

| | |
| --- | --- |
| | Ellis Beach-Buchan's Point Trip Report. 2007. On my last trip to Australia in 2007-2008, I spent most of my time in Noosa Heads, but also journeyed north to tropical North Queensland, stopping in Townsville to access Magnetic Island, which has traditional nude beaches at Rocky Bay, Balding Bay, and other secluded strands. You can read about my Balding Bay trip report here on NetNude as well. Noosa Heads and its clothing-optional Alexandria Bay have their own report. I also have a trip report to Sydney nude beaches from 2005. (click preceding link to read the rest of the report.) |
| | |
| --- | --- |
| | The Holiday Village Resort 2006. in South Australia is a wonderful place to stay. The hosts are extremely friendly and will bend over backward to accommodate you. I was welcomed warmly as a single-male visitor. The beach is quite a hike, but a beautiful hike across sand dunes nonetheless. The facilities were clean and user friendly. Overall, the prices I paid make clothes free enjoyment much more economical than in the states. I paid ~$6/night US and ~$9/night US. That's as good as a US National Park campground with no facilities except for a pit toilet. Thanks Andy for the report. (2006) |
| | |
| --- | --- |
| | Jajarawong Cottages in the Daylesford wine and natural springs region of Victoria is incredible. 2006. I saw and heard more wildlife here than any other place I visited in the Southern part of the continent. The hosts provide an outstanding booklet with information that betters any 5-star hotel. If you don't mind kangaroos hopping through your campground in the morning, this is the place to stay. Again, this is a very singles-friendly place to stay. Overall, the prices I paid make clothes free enjoyment much more economical than in the states. I paid ~$6/night US and ~$9/night US. That's as good as a US National Park campground with no facilities except for a pit toilet. (2006) Thanks Andy for the report. |
| | |
| --- | --- |
| | Pilwarren is an Australian resort situated on the Murray River in the southern state of South Australia, approximately 1 & 3/4 hours drive from Adelaide (the capital city of South Australia). It is a 75-acre property with access to 600 acres of lagoon, which is part of the Murray River system. It is in mallee (specific type of gum tree) country set high up on a cliff overlooking the lagoon with magnificent views particularly early morning & sunset. It is owned run by Debbie & David Pillar. Everyone is encouraged to be nude as weather permits & as new nudists feel comfortable to be nude. It is aimed at families & couples. Accommodation includes shady powered & unpowered sites, cabins & suites. Suites include bed linen, towels, tea & coffee making facilities. All guests have access to a well-equipped kitchen with all the necessary cooking & eating tools, plus fridges for food storage. Guests only need to bring their own food & drinks. Facilities include on-site caravan, large lawn areas, covered BBQ area, Clean shower / toilet blocks, outdoor shower, playground equipment, large recreation room & laundry. There are many activities including 8-ball, darts, mini-golf, petanque, assorted games, fishing canoeing, wildlife watching, walking or you can just relax to enjoy the great view & the quiet relaxed atmosphere. Membership is not required. Bookings & own transport are essential. Visit the site for additional information. |
| | |
| --- | --- |
| | Queensland - Hervey Bay Report. 2006. Hi, I'm in my early 50's and from Queensland Australia. I too, love the freedom of going nude although having to keep it private when those whom I know would disapprove, are around so as not to offend. My favourite spot for being with nature, as nature made me, is near Hervey Bay, a couple of hours from where I live. A lovely, near deserted stretch of beach with a backdrop of unspoilt bushland. Cool refreshing swims when the tide's in (goes a long way out at low tide). Long walks in the very warm sun, listening to the breeze singing in the trees and feeling so good to be like you're in touch with both earth and heaven, away from the ratrace. One or two rather bronzed bodies - usually male), the only other sign of human presence a lot of the time, so you can really be yourself. It's worth the trip to get there, I reckon. One day, I plan to move to the Bay, to live and then the washing machine might be gathering cobwebs. (2006) Thanks John for the report. |


New Zealand

| | |
| --- | --- |
| | Holidays NZnaturally. Comprehensive Guide to Clothes Free Holiday Destinations in New Zealand. The book is 48 pages and lists all the clubs, resorts and homestays, together with a list of popular naturist beaches. Full details of costs etc. on the website. Visit the site for additional information. |
| | |
| --- | --- |
| | Katikati Naturist Park is a modern New Zealand Holiday Park for naturists (not clothing optional) in a peaceful riverside rural environment. Offers full camping facilities including power hookups, communal kitchen, showers, toilets, etc. Onsite caravans, kitchen cabins, and fully self-contained chalet. For recreation KNP has pool, spas, sauna, tennis, petanque. Visit the site for additional information. |
Katikati Naturist Park Report. November 2011. I visited this naturist park during a quick trip to both the North & South Islands of New Zealand. It is reached easily within a couple of hours driving south of Auckland on SH-2. Katikati is a natural inlet located on the Bay of Plenty and the Naturist Park is about 1 km from the town itself. Kevin and Joan Sampson, the owners, have done a great job arranging the accommodations and maintaining the grounds. The park is set back from the hard road and retains privacy with forest, hedges and properly placed facilities. The facilities have something for every taste. They include spaces for the user to park his own caravan/ RV and hook up to the park's utilities as well as basic motel-like cabins and fully equipped self-contained units. To complement these units, Katikati Naturist Park has group restroom/shower/laundry buildings in two places. Additionally, the main recreation room has showers and a restroom. At the end of one of the shower units there is a large, group kitchen that is equipped with the necessary appliances for preparing meals of any size for small or large gatherings. Users of the caravans find this area very useful.

On the north side of the park is a very large grassy area bordering the creek/river that is used for overflow caravan parking as well as tent camping. It is a wonderful area for activities like frisbee and birding or just for quiet strolls. Kevin & Joan have installed some restored caravans for rent to their customers. I found it interesting to look these vehicles over and was impressed with the condition of them.

Recreation is pretty complete with the expected swimming pool, 2 hot tub/spas and a great wood lined sauna. These are located close to the main recreation room where one can also watch T.V., play pool or have group gatherings in provided table area. The swimming pool has a large grassy area that can be used for sunning. Most of the main recreation area is fenced to provide wind protection.

The park has about 5 or 6 permanent residents, it seems, who live in caravan based housing with additions like decks and expansion rooms attached. Residents, Linda & Jim were very helpful to me when they provided their computer and printer to generate a Google map for a day trip I was planning. In fact, everyone I met at the park was friendly and seemed glad to see a visitor from above the Equator. Games are located around the park. Miniature golf, frisbee golf, ping-pong, out door chess and petanque are available.

Katikati Naturist Park is in a great location. You can explore the Bay of Plenty, the Coromandel Peninsula and Rotorua region which are all easy day trips from the park. The town is close if you want to dine out or do some shopping. I think the normal rules apply at Katikati Naturist Park about clothing in the pool/spa/sauna areas. Most places do not allow bathing suits in these areas. Other than that common sense prevails and you can be nude anywhere in the park as long as you are comfortable. I think the road leading to the park might be off-limits for nudity since it passes through surrounding properties. I did venture out there myself without any problems.

Overall, a visit to KatiKati Naturist Park is a very pleasant, relaxing experience and if you like the idea of clothes-free recreation you should certainly give it a try. Kevin & Joan have provided facilities to accommodate most requirements and have done a very impressive job. So, do yourself a favor give them a call, reserve a place, get naked and have a great time. Their web site is: http://www.katikati-naturist-park.co.nz/. Thanks Don for the report!
| | |
| --- | --- |
| | New Zealand Naturist Homestay Network. Thirteen privately owned homestays offering a range of accommodation. 2704 State Highway 63, Wairau Valley, RD1 Blenheim 7271, New Zealand. Visit the site for additional information. Visit the site for additional information. |
Wai-natur Naturist Park Report. November 2011. Nestled in the Wiarua wine country is a gem of a park for naturists. Wai-natur is right on SR63 south of Blenheim. Although it fronts the highway the buildings themselves are set back and the very large front section contains some attractive gardens and a protective growth along the road-front itself. Park users can freely stroll through the gardens in the nude without concern about traffic on the road. The gardens themselves are quite natural and when I visited in the spring they different plants were just coming into blossom. It is a good place to relax and enjoy nature.

The accommodations of Wai-natur consists of a full B & B as well as cabin rental and caravan parking with or without hook-ups. The also have caravans for rent if you don't drag your own down there. Kay Hannam and Brian Williams are the owners/operators of the park and they have done a terrific job with the improvements to the property. The large lap-style pool and surrounding patio are a main attraction as is the hot tub/spa situated behind the main residence. Kay and Brian live and work at the park so their home serves as a park office as well as an editorial desk for Kay while she works to get the next issue of "gonatural" to the printer. Kay serves as the Managing Editor for the quarterly publication.

The rental caravans are cleverly arranged to maintain privacy as well as provide access to other visitors next door. You can be completely secluded and within a few steps pop over to visit with your neighbors. I had some very interesting conversations with a couple from Havelock. We talked about everything from the reasons people like to get their kit off to the quality of food in the pub next door. (There is a tavern right next door that serves bar food and drinks, of course.) The tasteful cabin was rented to another couple who seemed very interested in traveling and we talked about naturist places to stay in different parts of the world. Located close to the caravan parking is the bath house and restroom facility. They are separate and the shower is a double. In the same area is a large recreation room which contains cooking facilities and furniture. Visitors can cook and dine in the recreation room.

Wai-natur like most New Zealand companies seems to be very ecological minded and everything that can be recycled is recycled. Organic scraps go into Brian's bin located in his garden while other items are separated and placed in the proper bins located in a shed. It certainly is impressive to see that everyone is aware of the need to reuse our materials.

Wai-natur is a good place to stay while visiting the Marlborough wine country. The towns of Blenheim and Picton are also well within an hours drive. Picton is the gateway to Queen Charlotte Sound which provides almost unlimited hiking, kayaking and back country camping. Picton is the terminus of the Wellington fairy system also so access is convenient to the North Island. Day-tripping out of Wai-natur is quite easy. West of the park and across the river are numerous tramping tracks. You can reach the river by walking north on SR63 and turning left on Church Lane. It is a pleasant 2 hour round trip. South towards Murchison lies Lake Rotoroa and its network of tracks. There's plenty to do around this area. Wai-natur sponsors some events that are growing in popularity. Nudie Foodies Sounds Adventure is a naturist boating event and their Nude Golf International game fills up quickly.

A quiet stay at Wai-natur is just the ticket for getting away from the hustle-bustle of your busy life. There is no pressure there and you come away feeling regenerated and relaxed. Take the ferry from the North or drive up from the South and enjoy naturist recreation to the fullest. The Wai-natur web site is: http://www.naturist.co.nz/. Thanks Don for the report!

Copyright © 1997 - 2017 NetNude Inc.