Zipolite, Mexico Report. April 2008. In April 2008, we had the privilege to spend a wonderful time at Zipolite, Mexico.




El Alquimista Front Beach


Far West Part of Zipolite Beach

During that week of unforgettable serenity long away from our actual standards of tourist living, we rediscover how it is pleasant to fully consecrate our stay on essentials as the beauty of the site and the people there.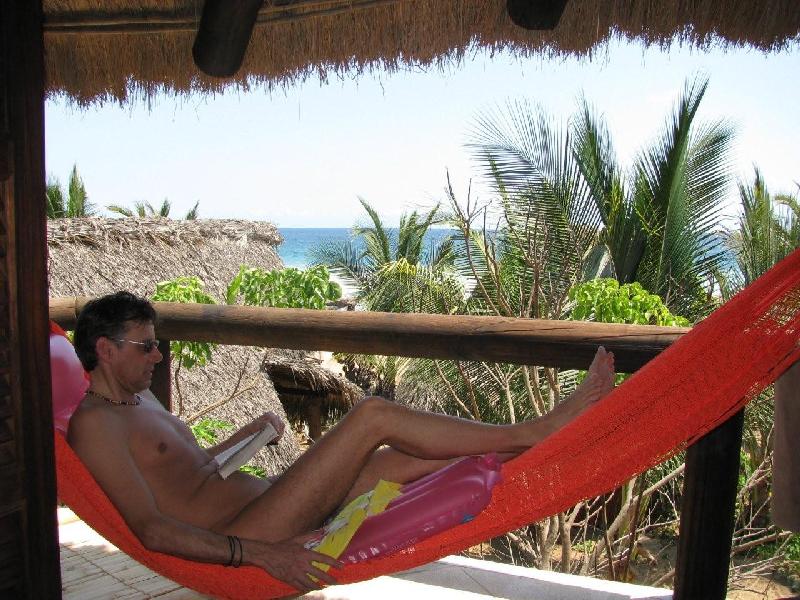 Relaxing Zipolite in the nude

For sure Zipolite as already mentioned will never compete with the present level of hotel installations of our usual sunny destinations. It is still a small Mexican beach village mainly constructed on sand. In fact all our activities during this week have been focused on the beach and the direct surrounding.




Zipolite typical Internet Coffee Shop

For the night and part of the meals we have chosen to be located at the El Alquamista complex at the far west of the beach.




El Alquimista - our cabanas was located on the far right of the picture (white hammock)

This the ideal place to spend time in the nude right from your cabanas up the beach. You just need to partly cover yourself at the restaurant.




El Alquimista Cabanas Interior with full front opening to the beach and the ocean

The beach is a marvelous curvy band of sand 2 kilometers long that you can walk fully naked without constant harassment from vendors or others. There are a lot of small restaurants, hotels even urban campsites available right there. They can be explored all day and evening long. Everything is mostly bohemian style as for service.




Zipolite Center and East part of the beach

The village is located just few steps from the back of the beach. Again small restos, coffee, shops can be found there like a small frontier Mexican village. The lazy atmosphere is the norm and it is an excellent way of reducing our minded speed. Hours or days of opening are completely improvised so we suggest you to get use of it at the right moment you have found it.

Many visitors from Europe are tending to spend long stay there and it is not rare to encounter owners of restos or cabanas that are Europeans.




Front Hammock Chamber from Poseda Mexico, another fine Zipolite place to stay

The Pacific Ocean is magnificent and the wave is incredible and may be dangerous as for the undertow. At the end of the day, many suffers are taking advantage from it.




Zipolite example of fully provisioned store

In brief, we loved the place and as naturists we really appreciated the clothing optional opportunity of it.

Hasta luego Zipolite! This report is brought to you by Michel.